Soy has been part of the traditional Asian cuisine for centuries – and it is fast becoming an increasing part of the global diet. In Asian cuisine, soy is a key source of protein and it has been incorporated into local cuisine in many formats according to local preferences. However, in the Western world there is less familiarity with soy as a healthy part of the human diet and there are various concerns about the impact of soy components on health.
3-part Webinar series with Alpro Foundation and MyNutriWeb
The Fuji Foundation for Protein Research has partnered with the Alpro Foundation during 2022 to run a series of webinars by respected academics in the field of nutrition and health to give a balanced overview of soy as a protein source and as part of the human diet. The webinars have been hosted by MyNutriWeb, a respected platform for health professionals.
Watch the first webinar on-demand: Why Consider Soy Alternatives to Dairy and Meat?
The first webinar was held on 14th June with the title Why Consider Soy Alternatives to Dairy and Meat. The webinar available to view via https://mynutriweb.com/why-consider-soy-alternatives-to-dairy-and-meat/ 
Webinar Content September 20th
Part 2 of this series will provide you with an overview of the very latest significant peer-reviewed research papers on soy and the endocrine system. It will look at the latest data on safety of soy for human consumption as well as opinion among research and nutrition professionals. You will learn how soy impacts on women's health particularly in relation to bone and fat metabolism. This part 2 event will also explore the latest evidence in relation to soy and breast cancer risk. Finally, some of the latest research in relation to soy isoflavones beyond the estrogen receptors will be explored.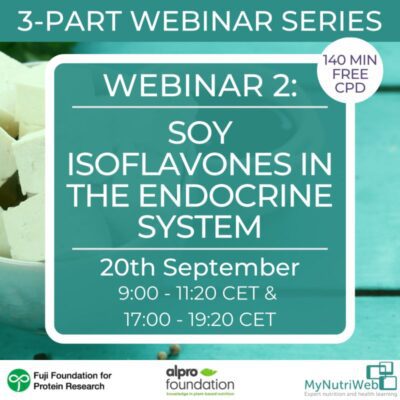 THIS WEBINAR HAS BEEN DESIGNED FOR
Academics
Industry professionals
Policy makers
Child health professionals
Dietitians
Nutritionists
Other health professionals with an interest in this topic
The 140 minute webinar is running twice to enable as many people as possible around the world to join:
Screening one: 08:00 BST; 09:00 CET; 00:00 PDT; 01:00 EDT; 16:00 JST
Screening two: 16:00 BST; 17:00 CET; 08:00 PDT; 11:00 EDT; 01:00 JST
The webinar will include recorded lectures from the speakers; each will also answer audience questions, which you can submit in advance when you register. At each live session, Chair Tanya Haffner will be providing insights; nutrition expert with experience in soy Elphee Medici will also be available to address some live questions. A full question and answer document will also be provided to attendees after the events.
Would you like to stay updated on future webinars? Follow us on LinkedIn and stay updated.
Webinar 3: 8th November, 09:00 CET and 17:00 CET