Soy has been part of the traditional Asian cuisine for centuries – and it is fast becoming an increasing part of the global diet. In Asian cuisine, soy is a key source of protein and it has been incorporated into local cuisine in many formats according to local preferences. However, in the Western world there is less familiarity with soy as a healthy part of the human diet and there are various concerns about the impact of soy components on health.
3-part Webinar series with Alpro Foundation and MyNutriWeb
The Fuji Foundation for Protein Research has partnered with the Alpro Foundation during 2022 to run a series of webinars by respected academics in the field of nutrition and health to give a balanced overview of soy as a protein source and as part of the human diet. The webinars have been hosted by MyNutriWeb, a respected platform for health professionals.
Watch the first webinar on-demand: Why Consider Soy Alternatives to Dairy and Meat?
The first webinar was held on 14th June with the title Why Consider Soy Alternatives to Dairy and Meat. The webinar available to view via https://mynutriweb.com/why-consider-soy-alternatives-to-dairy-and-meat/ 
Would you like to stay updated on future webinars? Follow us on LinkedIn and stay updated.
Webinar 2: 20th September, 09:00 CET and 17:00 CET
Webinar 3: 8th November, 09:00 CET and 17:00 CET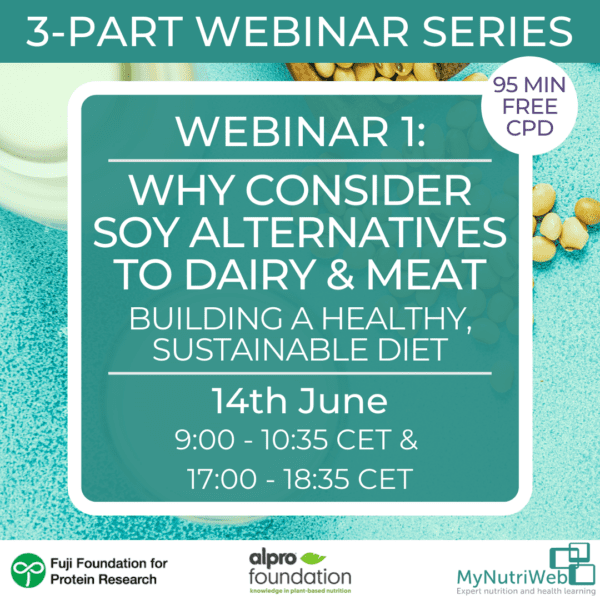 Webinar Content June 14th
Tanya Haffner, CEO, Registered Dietitian, MyNutriWeb
Soy dairy alternatives for adults and children
Professor Ian Rowland, Emeritus Professor of Human Nutrition, University of Reading, UK
Promoting health in ASEAN people by integrating soy foods into the diet
Professor Shigeru Yamamoto, International Nutrition, Graduate School of Jumonji University
The role of soy in promoting muscle function
Dr Joan Trabal, Nutritionist, Department of Endocrinology and Nutrition, Hospital Clinic University of Barcelona, Spain
Soybean beta-conglycinin as an effective food material for preventing dyslipidemia
Professor Mitsutaka Kohno, Department of Sports Science, Sports Nutrition Research Centre, Kyushu Kyoritsu University